All About Butterflies!

Welcome to ButterflyPages.com - a web site devoted to butterflies. I've enjoyed seeing butterflies all my life so I decided to gather together a collection of poems, stories, quotes and pictures all about them. I've also just added a page for butterfly videos featuring clips of butterflies in gardens and in the wild. You can also discover how to create your own butterfly garden and find books and posters.I am constantly updating butterflypage.com with more information and facts about butterflies, so keeping checking back to find out all the latest happenings.
Site News -
TINA TOOTH FAIRY
Tina Tooth Fairy is a wonderful collection of Children's stories, and best of all, the latest book features butterflies in a big way! In the second book about Tina the Tooth Fairy, Teeny Tiny Tina and Her Teeny Tiny Pet, you can read how Tina's favorite pet "Kat" the cat-a-pillar turns into a beautiful butterfly. Tina loves playing with her soft, fuzzy pet Kat but one day her sisters come to tell Tina that Kat is going to change into a beautiful butterfly.
Tina goes to great lengths to try to stop the process. She takes Kat everywhere she goes so Kat can't change. Poor Tina, she was so tired watching and playing with Kat all day long and then flying all night with her to collect all the baby teeth, that one day she fell fast asleep. Tina slept for a very, very long time, and when she woke up Kat was not on her bed. Where did Kat go? How does Tina deal with her loss? How does Tina discover that change is not something to fear?
Now that Kat is a beautiful butterfly, will Tina and Kat still be friends? Come read about the adventures of this cute little fairy and learn what Tina discovers in a new book by children's author, Rosemary Evans at www.tinatoothfairy.com
This hard cover book is beautifully illustrated by Erin Taylor in vibrant colors with lots of details and a beautiful message that children and parents alike love.
If you are interested in reading more stories featuring butterflies or want to learn more and butterflies by reading, then check out the butterfly books section of the site.
BUTTERFLY PAGES HITS TWITTER
March 9th, 2012: Hello everyone, I hope you are all having a good New Year. I just want to let you all know that Butterflypages.com is now on twitter - Follow @Butterfly_pages I would will be posting lots of butterfly related updates on the account so please follow butterfly_pages to keep up!
In other, butterfly related news, a film called The Butterfly Room is due to Premier at the Brussels International Film Festival later this year. The film features a lead character who (like many of us) is obsessed with butterflies. Unfortunately this is where the similarities end, the film is more about the relationship between the lead and younger girl who befriends her. However, this movie is yet another example of the power of butterflies to inspire art and creative imagery in popular culture.
POWESHIEK SKIPPER
November 14th, 2011: Saddening reports suggest the Poweshiek Skipper, a tiny butterfly once commonly found in Iowa, may be near extinction. One expect blames the U.S. Fish and Wildlife Service for not adding the butterfly to it's list of endangered species sooner.
The revelations came after butterfly expert Frank Olsen examined 26 different sites for signs of the butterfly during 2007 and only found the species at one of the locations.
The Poweshiek Skipper has now been counted as one of many endangered species in the U.S.. Hopefully this will raise awareness and encourage conservation schemes to prevent the Poweshiek Skipper from going extinct.
SOUTH AFRICAN BUTTERFLY COUNT
October 18th, 2011: Covering South Africa, Swaziland and Lesotho, the Lepidopterists Society of Africa will be conducting their latest butterfly count this coming weekend.
The society hope to use the information collected as a metric by which to judge the effect of land use and climate change on pollinators. For example, the butterfly the Table Mountain Beauty is the only pollinator of the Red Disa Orchard, therefore, if the butterfly no longer exists neither will the plant.
If you would like to help with the count visit the Lepidopterists Society of Africa's website here and sign up.
BUTTERFLY CALENDAR
October 17th, 2011: Houston's Holocaust Museum has been collecting butterflies for it's 2012 Butterfly Project Calendar to commemorate the children who lost their lives during the Jewish genocides of World War II. They recently announced they are now half-way to achieving the goal thanks to Astronaut Rex Walheim.
Walheim offered a butterfly drawing he did during the final shuttle mission, and will be presenting it to the museum tomorrow, Tuesday 18th October. His contribution to the calendar will become one of 800,000 butterflies collected by the museum thus far. Like Rex's many of them are drawn, but others have been sculpted or created from materials.
The calendar is due to be revealed in full during Spring 2014. If you would like to contribute a butterfly of your own here are the museums guidelines:
1. Butterflies should be no larger than 8 inches by 10 inches.
2. Butterflies may be of any medium the artist chooses, but two-dimensional submissions are preferred.
3. Glitter and all glitter-related products should not be used.
4. Food products (cereal, macaroni, candy, marshmallows or other perishables) also should not be used.
5. If possible, e-mail a photograph of your butterflies, to butterflyproject@hmh.org.
The butterflies need to be submitted by June 30th, 2012 complete with the following info.:
Your name,
Your organization or school,
Your address,
Your e-mail address, and
The total number of butterflies sent.
You can then mail them to this address:
Holocaust Museum Houston
Butterfly Project
Education Department
5401 Caroline St.
Houston, TX 77004
USA
Have fun creating your butterflies!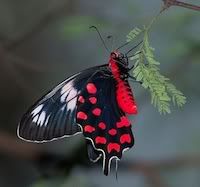 INDIAN BUTTERFLIES
October 6th, 2011: India is home to an incredible variety of butterflies, to the left is the Crimson Rose, a member of the Papilionidae family, or 'Swallowtail' family. Around the world there are some 550 species of swallowtails, 84 of these are known to be native to India. Other common family's found in the South Asian country are the Nymphalidae, the Pieridae, the Riodinidae (named for the metallic looking markings on their wings), the Lycaenidae and the Hesperiidae.



BIG BUTTERFLY COUNT
September 22nd, 2011: This year the UK reported its coldest summer for 18 years. This is said to have caused an 11% decrease in butterfly numbers. The stats were gathered by the Big Butterfly Count, in which 34000 people participated. The event was organised by the Butterfly Conservation charity and has long been supported by important environmental figures such as David Attenborough (See below for information about an interview David Attenborough gave to the BBC on the topic).
However, despite the overall bad news for butterflies, not every species was a loser. The UK's Red Admiral is reported to have increased its numbers by 98% since last year. Also, the Small Tortoiseshell is said to have made something of a rebound after years of poor turnout. This year it was the most frequently counted butterfly in Northern Ireland and Scotland. The species has been declining in Southern England for some years and scientist believe, given its resurgence in the northern regions of the UK, this is due to climate change.
The most commonly recorded butterfly species during the Big Butterfly Count was the Gatekeeper, with 52368 sitings in total.
September 6th, 2011

Check out the all new section of the site - butterfly lyrics. Here you will find lyrics, from song of the best songwriters and artists around, about butterflies or featuring butterflies. Also check out the butterfly books section for my latest recommendations.
September 5th, 2011

Just added a new butterfly conservation section to the site. A link to the page can be found in the butterfly facts section of the site. More updates coming soon so don't forget to check back regularly. Enjoy the end of summer, before all the butterflies disappear into hibernation!

All New - Google +1 Button! Recommend butterflypages.com to your friends.

September 4th, 2011

CONSERVATION NEWS REPORT: In the UK conservationists have warned that actions taken to prevent butterfly species decline will not do enough to save the endangered wildlife. Read the full article here on the UK butterfly conservation website.
September 2nd, 2011

Butterfly conservation is vitally important in order to prevent species of butterflies from becoming extinct. In the UK, during the 1950's, the Large Blue Butterfly was present in its thousands. The Large Blue species was declared extinct by the 1980's. A similar pattern of extinction can be seen across the world. Therefore, it is important to do all we can to conserve and protect butterfly species. Here are a couple of good organisations that provide in-depth information on the topic of butterfly conservation and habitat protection:

USA: BFCI (Butterfly Conservation Initiative)
UK: Butterfly Conservation

There will be more information added to this website in the coming days, along with more links to organisations working on the front line of butterfly conservation and butterfly habitat protection.

For more on how to help butterflies check out this interesting interview with David Attenborough, where he calls on the public to count butterflies - David Attenborough Interview.

And if you want to act now you can start by making your garden as butterfly friendly as possible by planting plenty of flowers. Butterflies like plenty of nectar. Two popular 'butterfly bushes' are Buddleia and Valerian.


September 1st, 2011

Butterfly facts has been updated to include a listing of butterfly species. Currently the category includes the most common butterfly species found in Great Britain. More species to be added soon. Thanks to everyone who has sent in their fantastic butterfly stories, quotes and pictures. They will all be added to the site very soon! Please keeping sending your work in to share with everyone, thank you.

If you want to post butterfly pictures and graphics on your website feel free to take images from my collection in the butterfly graphics section of the site. You can find butterfly graphics quickly by clicking on the link on the left hand menu.

New Feature - Google Search Bar -


March 1st, 2011

Belated New Years! I'm sorry for the lack of updates recently but don't worry, I've been working behind the scenes. First off; I've installed a new Facebook 'like' button that can be found on the left hand side of every page. Please click to let your friends know about the site, thanks!

Secondly; I want to thank everyone who has sent in contributions, I'm working to get them all up on the site as soon as possible, starting today! The first post is already up - it's a beautiful poem called 'Transition' and can be found in the Butterfly Poems section. Thanks to Jaquelyn Niel for that! Check back for more updates coming soon and keep looking out for those Butterflies.


October 6th, 2009

Hi guys, hope everyone is doing well and looking out for the butterfly population! I just added a couple of new sections to the site including a page on Butterfly Tattoos and Butterfly Jewelry.

I hope you all find these useful extentions to the site. If anyone has any information they want to add, or make suggestion for the site don't hesitate to send me an email using the contact button at the top of every page. Thanks.
Butterfly Quote -

"What the caterpillar calls the end of the world, the master calls a butterfly," - Richard Bach.

Read more butterfly quotes here!
May the wings of the butterfly kiss the sun
And find your shoulder to light on,
To bring you luck, happiness and riches
Today, tomorrow and beyond.
~Irish Blessing

Butterfly Graphics!

Butterfly Graphics

Butterfly Glitter Graphics

Butterfly Comments

Butterfly Icons


NEW! - Butterfly Poem!

"Butterfly" - This one was submited by one of you! Please feel free to send my your butterfly poems and I'll post them up. Thanks Joff for this fantastic butterfly poem.